What is the principle of a braking resistor?
The braking resistor therefore enables the correct operation of the drive in complete or partial braking. It will thus transform electrical energy into calorific energy. It is also capable of absorbing strong power surges over long cycles.
Braking resistors are suitable for various applications thanks to their technical advantages: overhead cranes, container ships, cranes, automated production lines, etc.
High-performance resistors
High powers
Attractive price
Small footprint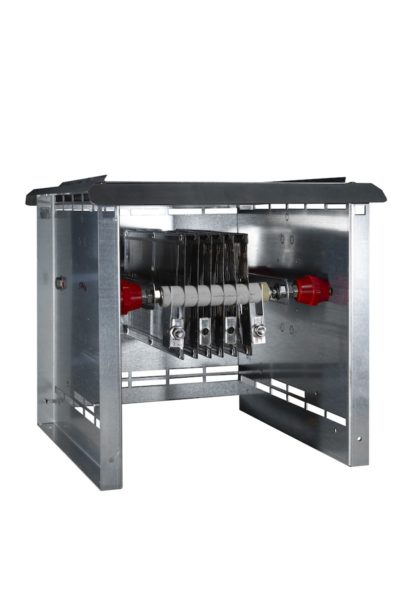 The most compact resistors on the market
Braking resistors for variable speed drives can dissipate up to 2,000 permanent W in IP 20 and 1,600 W in IP 23, with very high overload possibilities: more than 25 kW in 1 second.
Current values available in stock
An immediate response to the main ohmic values on the market: 28 Ω, 40 Ω, 60 Ω, 100 Ω. For values from 9 to 133 Ω, consult us.
IP 20 and IP 23 presentation
IP 20 presentation:
Continuously galvanized steel cover
Fixing hole 40 x Ø11 mm
Approximate weight: 4 kg
IP 23 presentation:
Horizontal mounting is imperative
Continuously galvanized steel cover
Fixing hole 40 x Ø 11 mm
Approximate weight: 4 kg
Resistors for many applications: lifting and industry
Braking resistors for variable speed drives withstand heavy loads and severe cycles in many applications such as lifting or industry.
Container ship
Moving bridge
Harbor cranes
Train and Tram Link Railway
French quality resistors, adaptable to technical constraints
The METAL DEPLOYE RESISTOR range of braking resistors are made in France. They are high quality stainless steel and adapt to:
dimensional constraints
at low and medium voltage levels
braking cycles linked to the actual use of the application
to personalized requests, such as the addition of accessories, the choice of paint, forced ventilation, etc.
One application for several markets
A range of braking resistors for all your voltage levels up to 600 kW
METAL DEPLOYE RESISTOR offers a complete range of braking resistors adapted to your powers from 1 kW to 600 kW and other degrees of protection on request. Optionally, a safety thermostat.
Among the other braking resistors in the range:
Braking resistors designed for lifts up to 500kW
Braking resistors with forced ventilation from 100kW to 2MW link Ventilated braking resistors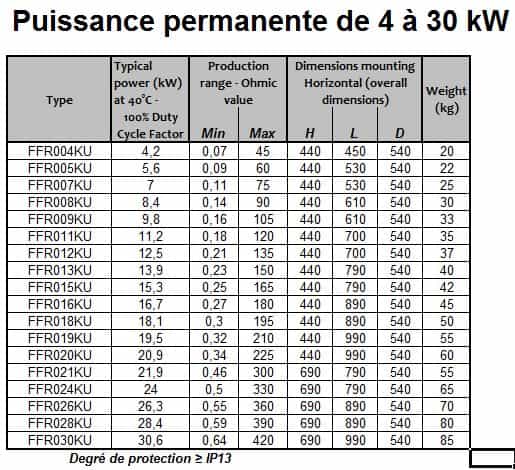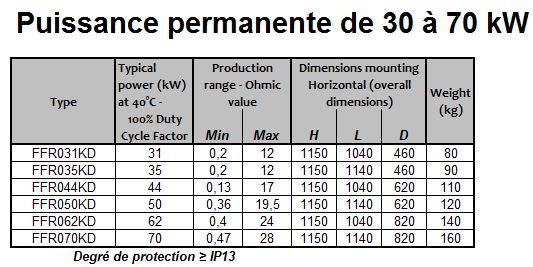 METAL DEPLOYE RESISTOR is at your disposal to define the specific parameters related to your brake resistors needs for variable speed drives.
Our range of resistors meets the international standards .