In response to the growth in electricity production in France and around the world, METAL DEPLOYE RESISTOR offers high power load banks electric , 3.3 MVA and beyond by interconnecting them.
For large-scale installations meeting significant electricity needs, the 3.3 MVA load bank is:
Security : be able to start instantly and at any time
The performance : ensure load recovery with stable voltage and frequency production
Optimization : limit fuel consumption and minimize polluting emissions
What are the challenges for production and emergency power plants?
Power generation and emergency power plants today face several challenges:
a significant power requirement,
absolute continuity of activity,
without breakdown or damage.
A generator that is seldom used or has a low load often does not work properly.
Installing a load bank and carrying out a test of a generator set will allow:
a Preventive maintenance by reducing the risk of failure
a corrective maintenance by maintaining equipment at nominal performance
3.3 MVA and more load bank: what are its strengths?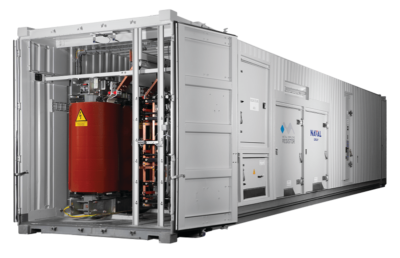 The 3.3 MVA container allows you:
to guarantee proper functioning of the equipment,
to limit premature aging,
to reduce unexpected breakdowns,
to reduce unavailability (limit downtime),
to decrease the costs associated with curative maintenance.
to treat 95% of power standards
With its active power of 3.3 MVA at 480V, 60Hz, this load bank can operate over a voltage range of 380 to 480V for frequencies of 50 or 60Hz.
Standard and easy handling
Compact and lightweight, it is a 10-foot-high container ("high cube container"), CSC certified , weighing less than 8 tons. It is transported and handled by a 10-ton crane truck, without the need for an exceptional convoy. (Learn more about all our mobility and transport functions )
Analysis of test data whatever the applications
10-inch touch screen for better ergonomics
Dedicated software for ease of use
Data report for technical performance optimization
Save time during connection
The power connection is facilitated by a large connection space, and practical thanks to its double access.
Two entries:
A range of high power load banks