To meet all electrical voltages, in France and around the world, METAL DEPLOYE RESISTOR offers medium electric power load banks, up to 2,500kVA: control of medium voltage .
For medium-sized installations, for the needs relating to your electricity operations, the medium voltage load bank container is:
Security : be able to start instantly and at any time
The performance : ensure load recovery with stable voltage and frequency production
Optimization : limit fuel consumption and minimize polluting emissions
What are the challenges for production and emergency power plants?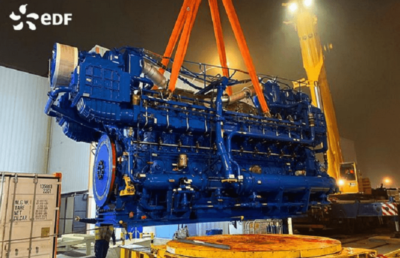 Power generation and emergency power plants today face several challenges:
a relatively high power requirement,
absolute continuity of activity,
without breakdown or damage.
A generator set often does not work properly because it is used little or at low load.
Installing a load bank and carrying out a test of a generator set will allow:
a Preventive maintenance by reducing the risk of failure
a corrective maintenance by maintaining equipment at nominal performance
High voltage load bank : what are its strengths?
The 2,500kVA container allows you:
to guarantee proper functioning of the equipment,
to limit premature aging,
to reduce unexpected breakdowns,
to reduce unavailability (limit downtime),
to decrease the costs associated with curative maintenance.
to treat 95% of power standards
With its active power of 2,500kWA, this load bank can operate on a voltage range of 400 V for frequencies of 50Hz.
Standard and easy handling
Compact and light, it is a 10-foot container with a total weight of 2 tons. It is easy to handle and transport by common means of transporting loads using public roads (roads, street, passage under bridges, etc.).
METAL DEPLOYER RESISTOR provides, as an option, the entire necessary transport equipment [link Load bank customization: control system, mobility …]: road trailer, ballast hooking system, protection, …
Analysis of test data regardless of the applications
10-inch touch screen for better ergonomics
Dedicated software for ease of use
Data report for technical performance optimization
Save time during connection
The power connection is facilitated by a large connection space, and practical thanks to its double access.
Two entries:
A range of medium power load banks
METAL DEPLOYE RESISTOR offers a complete range of load banks capable of meeting your electrical capacity needs for all types of sectors and environments, even the most restrictive.
METAL DEPLOYE RESISTOR, is at your disposal to define the specific parameters linked to your needs.