METAL DEPLOYE RESISTOR offers load banks or test banks.
They allow testing the operation of equipment such as generators , whether emergency or power supply, for reasons of:
security
maintenance
conformity
risk anticipation
This guarantees you, in the long term, correct operation of your equipment and a reduction in breakdowns and destruction of your equipment.
You are a generator set specialist (rental company, maintainer,…)?
Your solution is the use of load bank for generator set adapted to your needs, up to 3300 kVA.
Generator test: for preventive and corrective maintenance
Generators rarely run at full speed. It is during prolonged operation at low load as risks of deterioration may appear as :
clogging of the injectors,
the accumulation of humidity and carbon, in particular in the combustion chambers and the exhaust system,
or even the icing of cylinders.
The solution is to rev up the installation to full capacity to determine its maximum power over a given time.
It is the use of load banks, which will allow preventive and curative maintenanceby reducing risk of failure by maintaining your equipment at nominal performance.
Why use a load bank for a generator set? Test it, maintain it, ballast it
Test a generator
The load bank tests a group to verify that it can still deliver its full power .
This is valid for any type of generator:
A production / rental generator set . Here, it is a matter of ensuring the proper operation of the equipment let to each customer,
An emergency generator, seldom used, seldom tested.
The full load test guarantees:
the proper functioning of a generator
its power handling , without cutting or disturbing the network by a real test.
In fact, most faults and failures only occur at full load. A no-load test would not diagnose them, while further fouling the generator set.
Maintain a generator
Clean out the engine
An engine which runs after a long period at low load does not reach its optimum operating temperature. So there is a risk that it will get dirty: we use the term " wet stacking ". It is then necessary "flush" with a minimum of 80% of the nominal power .
Breaking in the engine
After having performed extensive maintenance, it is important to break in the engine using a test bank.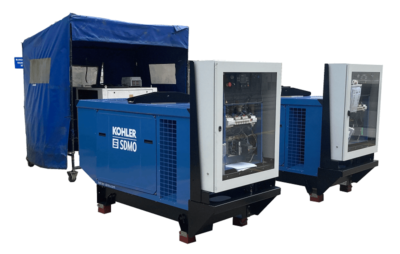 Ballasting a generator
If it operates for long periods at low load, the generator set should be subjected toballasting . This makes it possible to measure the power supplied to the network and thus trigger the resistance steps necessary to reach a minimum power of 30% to 50% of the generator's nominal power.
Therefore, the generator set operates at the temperature that suits it, which:
limits its fouling,
ensures better performance.
A range of load banks to test all electrical equipment
The electric load bank is often used for generator set testing, it can also be very useful for other types of equipment:
METAL DEPLOYE RESISTOR , supports you by designing the product adapted to your equipment, your precise voltages and amperages.