Métal Déployé Resistor is a founding member of the Metal Valley association.
Metal Valley is the association of 7 dynamic industrial companies located in the Montbard – Venarey les Laumes (21) basin:
Expanded Metal Resistor

Métal Deployé SA

Valti

Nuclear Valinox

Salzgitter Mannesmann Stainless Tubes (SMST)

Cablofil

Vatimet
These 7 companies that make up Metal Valley are growing companies which invest in the region. The objective of Metal Valley is to promote companies and contribute to the development of the territory in a sustainable way by developing partnerships with the various local and regional players, particularly in terms of employment and the attractiveness of the territory.
To find out more, we invite you to visit the Metal Valley website.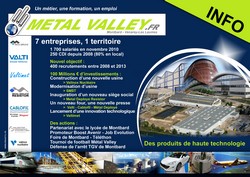 Métal Déployé Resistor also has many partners in the region including: