Compact and silent, robust, ergonomic and modular, METAL DEPLOYE RESISTOR load banks are designed to meet the technical needs of their customers as closely as possible.
The load banks at " natural ventilation " or " natural convection "Offer a system of cooling via ambient air .
Technical characteristics and associated equipment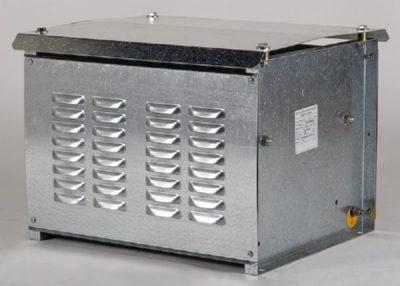 Among the technical characteristics:
Power from 5 to 100 kW in a three-phase 400V chassis
Connection in the lower part (cold zone)
Protection index IP13 or IP23
The naturally ventilated load banks all have the following options:
A control cabinet
A terminal block: DIN rail
wheel-base fitting
Noise-free and less expensive ventilation
The advantage of natural ventilation is noise-free operation and a reduction in cost compared to other types of ventilation up to 90kW. However, the heat dissipated through the resistors heats up the walls of the housing, which requires precautions for use (breathing space) .
A complete range of tailor-made load banks
Metal Déployé Resistor is a team of engineers capable of designing a tailor-made load bank meeting the needs and constraints of the most important installations:
METAL DEPLOYE RESISTOR, is at your disposal to define the specific parameters linked to your needs.